Helpful Guides
Making the decision to personally move is never easy. Helping your parent make the right decision can be even more difficult. We can help you!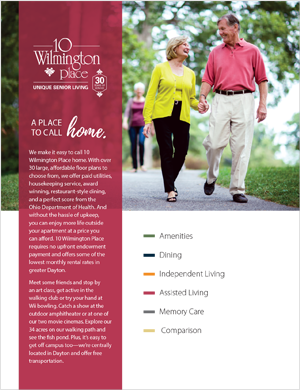 Download Our Welcome Kit
This kit has everything you need to know about 10 Wilmington Place before you decide to call it home including details about our care options; Independent Living, Assisted Living and Memory Care. Learn about our amenities, care options, dining and more to discover what life is like here in this community.
---
Our guides can assist you in making the right decision. We offer tips to help you navigate the journey of finding a community that's right for you or your loved one.
How Can I Help My Parents Decide?
Starting the conversation with your loved one about moving to a senior living community isn't always easy, and choosing the right one can be even more difficult. Our brochure provides practical and friendly advice.
Downsizing: What to Keep, What to Leave
There are many questions that can arise from relocating to a new home. What do I have to get rid of? What am I able to keep? Will the new space feel like home? Acquire helpful tips on making the transition to a senior living community with our guide.